CLINICAL FACULTY
The core element to the success of the Virginia Tech Carilion General Surgery Residency is the commitment of over 20 full time faculty and another 30 volunteer faculty, who freely donate their time and practice patient cohort to the benefit of the resident training program. Clearly, success is founded upon the ability of the house officers to establish open rapport with the faculty and to dedicate their energies to the care of their patients.
FULL-TIME FACULTY
Christopher C. Baker, M.D., Chair of Surgery
Christopher C. Baker, M.D.
Dr. Baker completed his surgery training at the University of California in San Francisco (1981), during which time he pursued an NIH research Fellowship in immunology at San Francisco General Hospital. He returned to his roots along the East Coast where he became an Assistant Professor of Surgery at the Yale School of Medicine (1983). He ran the Level I Trauma Center there and advanced to Associate Professor in 1986. Dr. Baker moved to Chapel Hill (1989) as Professor of Surgery at UNC School of Medicine. Dr. Baker then joined the Harvard Medical School faculty (2004) as Professor of Surgery at Beth Israel Deaconess Medical Center, where he served as Surgery Program Director for the Surgery Residency (2005-2007).
Dr. Baker assumed the Chair of Surgery at Louisiana State University (2007) before coming to Roanoke (2010). Throughout the years, Dr. Baker has served on many editorial boards, in professional surgical societies. Dr. Baker has published over 100 refereed publications, contributed to 20 textbooks, presented over 140 invited presentations and has had over 130 papers presented at scientific meetings. His research interests center around trauma/critical care management.
Charles J. Paget III, M.D., Director, General Surgery Residency
Charles J. Paget III, M.D.
Dr. Paget graduated from the Indiana University School of Medicine in 1990. He completed his residency training at St. Josephs Mercy Hospital in Ann Arbor, Michigan. He served at the Chief of Surgery, Director of Acute Care Surgical Service and Surgical Endoscopy Service at Morehead Memorial Hospital from 1996-2002. Dr. Paget is currently the Associate Program Director of the General Surgery Residency Program and the Section Chief of General Surgery at Carilion Clinic.
Sandy Fogel, M.D., Associate Program Director
Sandy Fogel, M.D.
Dr. Fogel graduated AOA from Washington University in St Louis and then spent 24 years on the staff at the Johns Hopkins Hospital. Moving to Roanoke in 2008 allowed him to become part of a new and growing medical school and to continue a lifelong love of teaching and of resident development. His clinical interests have gravitated towards colo-rectal surgery with a special interest and expertise in inflammatory bowel disease. He has become intimately involved in surgical quality improvement and is widely published in the field. He has been an invited lecturer on this subject quite often. Dr. Fogel also holds the titles of Medical Director of OR Services, Surgical Quality Officer, and NSQIP Surgeon Champion.
Bryan Collier, D.O., Section Chief and Medical Director, Trauma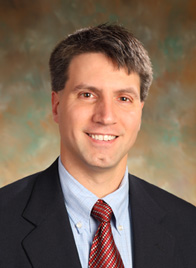 Bryan Collier, D.O.
Dr. Collier serves as the Section Chief and Medical Director of the Carilion Clinic Trauma Services. In addition, he is the Director of Surgical Nutrition. Dr. Collier completed his medical school training at the Philadelphia College of Osteopathic Medicine and completed a general surgical residency at Memorial Medical Center in Johnstown, Pa. He then went on to Vanderbilt University Medical Center to obtain a fellowship in trauma and surgical critical care. His academic and clinical interests include Trauma and Surgical Nutrition.
Curtis Bower, M.D., Director of Surgery Simulation
Curtis Bower, M.D.
Dr. Bower is a graduate of Jefferson Medical College in Philadelphia, PA and completed his general surgery residency and research fellowship at East Carolina University in Greenville, NC. He then briefly entered private practice in Danville, VA before being recruited back to ECU as faculty. There his interests included venous insufficiency and advances in minimally invasive surgery including single incision laparoscopy. He then entered fellowship at the University of Kentucky where his focus was laparoscopic foregut surgery and complex hernia repairs. He then came to Carilion in 2013 where his interests remain in complex hernias, advanced laparoscopic surgery and treatment for venous insufficiency.