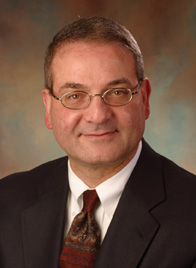 Zev Elias, M.D.
Dr. Elias, a Philadelphia native, attended Swarthmore College where he majored in biology and lettered in varsity football. After Swarthmore College, he attended Temple University Medical School in Philadelphia, where he received a scholarship to the Air Force Health Professions Scholarship Program and was inducted to the Reserves as a Second Lieutenant.
Upon completion of medical school in 1982, he was promoted to the rank of captain and began his internship at the University of North Carolina at Chapel Hill, where he continued as a neurosurgical resident. While completing his training, he received a research fellowship from the NINCDS (National Institute of Neurological and Communicative Disorders and Stroke). Dr. Elias also completed several interesting research projects related to laser applications in neurosurgery, along with senior co-author Dr. Stephen Powers. These projects led to subsequent national presentations.
Following the completion of his neurosurgical residency in 1988, Dr. Elias served at Wilford Hall USAF Medical Center in San Antonio, with the rank of major. In 1989, he was appointed as Chairman of the Department of Neurosurgery and while serving in this role, he was appointed to be the consultant to the Air Force Surgeon General. During Operation Desert Storm, Dr. Elias was deployed to Europe where he served as the chief of neurosurgery at a 1,500-bed hospital. In 1992, he completed his service and was awarded the Air Force Commendation Medal.
Upon his discharge from the military, Dr. Elias entered private practice in Allentown, Pennsylvania, where he worked at Lehigh Valley Hospital, a Level I trauma center, and was appointed Head of the Section of Neurotrauma. Other academic affiliations as clinical associate professor of surgery at the College of Medicine at The Pennsylvania State University in Hershey, Penn. and as clinical professor of Allentown College of St. Francis de Sales in Center Valley, Penn.
In 2001, Dr. Elias moved to Danville, Penn., to work at Geisinger Medical Center. At this large, non-profit multi-specialty medical center, Dr. Elias advanced the care of the critically head injured and of patients with pituitary tumors. Dr. Elias and fellow neurosurgeon Dr. Gary Simonds moved to Roanoke, VA in 2003 to provide the nucleus of Carilion Neurosurgery care. Dr. Elias has become actively involved in the trauma program, the education of residents of multiple specialties, and the education of medical students at the Virginia College of Osteopathic Medicine. Dr. Elias has special interest and expertise in pituitary surgery, head injury, and stereotactic radiosurgery (CyberKnife).