Rheumatology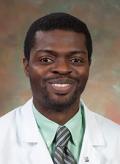 In general my aim is to cure if possible, if not treat the underlying condition to prevent further damage.
Gen Info Left
Certifications
Internal Medicine, Rheumatology
Internships
SUNY Downstate Medical Center
Residencies
SUNY Downstate Medical Center
Fellowships
Rheumatology - SUNY Downstate Medical Center
Conditions Treated and Interests
Gout
Lupus
Myositis
Psoriasis
Rheumatoid Arthritis
Scleroderma
Sjogren's syndrome
Spondyloarthritis
Vasculitis
Procedures Performed
Carpal tunnel injections
Joint aspiration and injection
Trigger finger injections
Ultrasound
Monday-Friday 8:00 AM to 5:00 PM
Other Locations
1 Riverside Circle, Suite 300M
United States
Adegbenga A. Bankole began practicing medicine since 2008 when he joined Carilion Clinic. He attended the University of Ibadan where he completed his medical education. He then attended Southern University of New York Downstate Medical Center in Brooklyn, NY where he completed his internship, residency, and Rheumatology fellowship.
Dr. Bankole's clinical expertise includes gout, lupus, myositis, psoriasis, rheumatoid arthritis, scleroderma, sjogren's syndrome, spondyloarthritis, and vasculitis. He has performed procedures including carpal tunnel injections, joint aspiration and injection, trigger finger injections, and ultrasound. He is a member of the Virginia Society of Rheumatology, Exectuive committee Lupus Foundation of America and DC/MD/VA Chapter Medical Scientific Advisory Council. He also holds an academic appointment as an Assistant Professor at the Virginia Tech Carilion School of Medicine.
Dr. Bankole receives gratification from his rheumatology patients by helping improve the quality of life. He most enjoys the relationships he develops with his patients and shares a positive outlook throughout their journey.