Orthopaedic Surgery, Foot and Ankle Surgery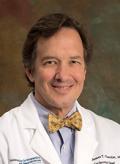 Gen Info Left
Specialties
Orthopaedic Surgery, Foot and Ankle Surgery
Colleges
Medical College of Georgia
Internships
Greenville Memorial Hospital
Residencies
Greenville Memorial Hospital
Fellowships
Orthopedic Surgery - Carolinas Medical Center; Foot & Ankle Surgery - Grant Medical Center; Orthopedic Trauma - Columus, Ohio
Conditions Treated and Interests
Ankle ligament tears
Bunions and hammertoes
Foot and ankle arthritis
Foot and ankle deformity
Foot and ankle tendon injuries
Foot deformity due to nerve damage or stroke
Fractures
Non-healing diabetic ulcers
Sports Medicine
Procedures Performed
Ankle and knee arthroscopy
Ankle ligament reconstruction
Ankle replacement
Ankle tendon repair
Bunion surgery
Deformity correction of foot and ankle
Diabetic foot reconstruction
Fusions of foot and ankle
Hammertoe surgery
Repair of fractures
Monday-Friday 8:00 AM to 5:00 PM
James T. Chandler, M.D., has been practicing medicine since 1988. He graduated with honors from the University of Georgia and earned his medical degree from the Medical College of Georgia. Dr. Chandler completed an internship and his residency in orthopaedic surgery at the Greenville Hospital System, including Shriner's Hospital for Crippled Children. He then held a fellowship for foot and ankle at the Carolinas Medical Center and a second fellowship in orthopaedic trauma at the Grant Medical Center.
Dr. Chandler specializes in foot and ankle surgery.
Dr. Chandler joined Carilion Clinic in 2010 and currently holds a variety of positions within orthopaedics, including Department Co-Section Head of Foot and Ankle. He is certified by the American Board of Orthopaedic Surgery and he teaches at both the Virginia Tech Carilion School of Medicine and the University of Virginia School of Medicine.
In his spare time, Dr. Chandler likes to do outdoor activities and sports with his children, including hiking. Helping patients improve their lives is the most gratifying part of his job.